Von Miller hasn't registered a sack since Week 13 of the 2016 season. Now in his seventh year, this five-game stretch of going without a sack is the longest of Miller's career.
However, it's important to note that Miller impacts the game in a variety of ways, even if it isn't always reflected in the box score. In Week 1 against the Los Angeles Chargers, Miller was often double-teamed and sometimes triple-teamed.
The level of attention he commands from the opposition allows other play-makers to impact the game, like Shaquil Barrett in Week 1. Although he did not register a sack, Miller still contributed five pressures, including one QB hit and four QB hurries, according to Pro Football Focus, which ranked fourth among all 3-4 outside linebackers.
But this week, against the juggernaut Dallas Cowboys, the Broncos need Miller to get home and be the game wrecker that he is.
[Full Story In The Video Above]
What's next for the Broncos? Sign Up For Our FREE Broncos Newsletter — Get Every Story Delivered To Your Inbox Daily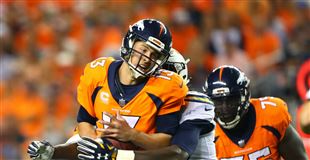 3 Areas The Broncos Must Show Consistency On Offense Start SlideShow
Follow Mile High Huddle on Twitter @MileHighHuddle and the Huddle Up Podcast @HuddleUpPod.
click here to read the rest of this story